Bredele "Discovery" assortment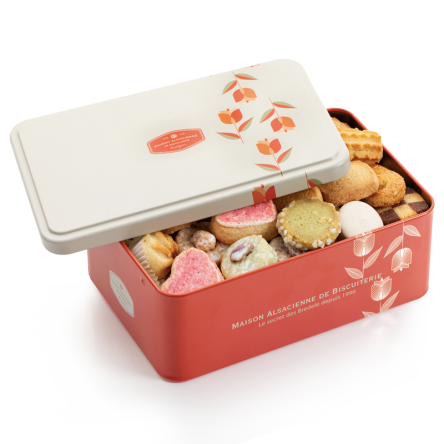 View larger
Send this product by e-mail

Remove from my favorites
Add to my favorites
All the taste of our Maison in a stunning Springtime tin, in an exclusive, limited edition. Soft biscuits, butter biscuits and gingerbreads… The perfect selection for discovering and savouring the diversity of our Alsace wonders!
430g tin
Warning : Last items in stock
Availability date :
This assortment contains
All our Maison's creations, reunited in this tin!*
The treasures of Alsace, the taste of our Maison
The very essence of Bredele is found in their incredible diversity, both in terms of shapes of flavours. We've taken the richness of our region and translated it into this Discovery assortment. We've put together all our creations: all-butter Bredele - with lavish butter flavours - soft Bredele, creations with generous helpings of almond, and our gingerbreads, sweetly spiced original creations.
Authentic little pieces of Alsace and all the flavour of our Maison: A truly indulgent journey through our region!
Our signature tin
Our Bredele Assortment is presented in a gorgeous limited-edition luxury tin, decorated with floral designs to celebrate the return of Springtime. This beautiful presentation tin not only showcases our (and your) biscuit creations wonderfully, it also conserves them in optimal conditions. 
We take the time to hand-select and pack each biscuit individually, guaranteeing meticulous presentation.
A perfect gift
Of course, we'd completely understand if you decided to keep this assortment all to yourself. That said, the tradition of Bredele is founded on the notion of them being shared. This tin makes the perfect gift, so others can discover the enticing flavours of our region and the expertise of our Maison. It will delight traditional Bredele lovers and sweet-toothed hedonists alike!
Our serving tips
Whether they're enjoyed for dessert or during a mid-morning break, our biscuit tin will be an exquisite addition to any table. Tea, coffee, hot chocolate… Whatever your taste, pair our specialities with your favourite hot drink and share a moment of delicious delight with your nearest and dearest…
*The contents of this tin may vary, depending on the seasons and what our pâtissiers have baked at the time of packaging. This list is updated as regularly as possible but remains non-exhaustive. Get in touch if you have any questions!
Sugar, flour (GLUTEN), ALMOND, butter (MILK), ALMOND paste (sugar, ALMOND 32.3%, inverted sugar syrup, glucose syrup), EGG, apricot topping (glucose-fructose syrup, sugar, apricot purée), honey, inverted sugar, HAZELNUT, WALNUT, raspberry preserve (sugar, raspberry 45%, glucose syrup, setting agent: pectin), mirabelle plum preserve (sugar, mirabelle plums 35%, setting agent: pectin), damson plum preserve (sugar, damson plum 35%, setting agent: pectin 2.5%), candied orange and lemon peel (orange peel 0.3%, glucose syrup, lemon peel 0.1%, sugar), candied ginger, starch, candied orange and lemon peel paste (orange peel, lemon peel, glucose syrup, sugar), glucose syrup, raisin, PISTACHIO paste (PISTACHIO 48.4%, sugar, flavouring, colouring: E141 - lutein), cocoa, cream (MILK), grape seed flour, PISTACHIO, pure cocoa paste, lemon juice, vanilla extract, kirsch, candied lemon peel (lemon peel 62%, glucose syrup), candied orange peel (orange peel 52.6%, glucose syrup), rum, green aniseed, salt, coffee paste (coffee, sugar, HAZELNUT oil, HAZELNUT, natural coffee flavouring), natural flavourings: aniseed - rose, grape seed oil, baking powders: E503 - E500(ii) - E450i, cinnamon, neutral alcohol, MILK, spices, brandies: raspberry-mirabelle plum-damson plum, antioxidant: rosemary extract, essential oils: lemon - coriander - ginger - orange, Grand Marnier® extract (alcohol, cognac, bitter orange natural extracts, colouring: caramel), flavouring, colouring ingredient: safflower extract - acerola juice concentrate - beetroot juice concentrate - lemon juice concentrate, nutmeg, ginger, vanilla, clove, coffee, thickening agent: xanthan gum - acacia gum, water, ginger liqueur, lime, colourings: cochineal - paprika extract - lutein, cornflour.
All our products are made in a bakery which uses wheat flour (gluten), milk (lactose), eggs, nuts (almond, hazelnut, pistachio, walnut), sesame, soya derivative, peanuts and ingredients which may contain traces of sulphites.
Nutritional values per 100g
Energy 1837 kj
Energy 439 kcal
Fats 22 g
> Of which saturates 8.3 g
Carbohydrates 51 g
> Of which sugars 34 g
Fibre 3.2 g
Protein 7.5 g
Salt 0.07 g
Alcohol 0.1 g
Store in a dry, cool place.
To make sure you experience the best flavours and textures our speciality has to offer, we recommend enjoying it within 90 days of shipment from our Atelier. So you can enjoy the indulgence at its finest.
They have already tasted this product
Philippe L. published the 09/08/2022 following an order made on 27/07/2022
Très bon également pour découvrir d'autre sorte de gâteau, cette boîte est idéale.
Amélie M. published the 09/08/2022 following an order made on 22/07/2022
Idéal pour découvrir tout les produits et déterminer ses préférences. Tout est délicieux. Les moelleux sont top.
Catherine H. published the 24/05/2022 following an order made on 13/05/2022
hum, je recommande !
Marie Anne P. published the 20/05/2022 following an order made on 11/04/2022
assortiment bien composé et très savoureux. Maison à vivement recommander.
Eric P. published the 12/05/2022 following an order made on 02/05/2022
Très bon
You may also like...
Afternoon Tea Assortment - Deluxe tin

We've put together all our gingerbreads in this beautiful tin. Savour each and every bite, taking in the rich qualities of their prestigious ingredients: Honey, candied orange a...