Soft Honey Nougat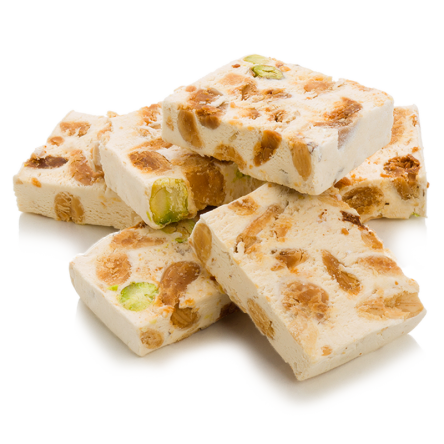 View larger
Send this product by e-mail

Remove from my favorites
Add to my favorites
Succumb to the elegant pleasure of this sweet masterpiece! Don't be fooled by its simple appearance, our pâtissiers pride themselves of sharing and passing on the exceptional expertise of our Nougat, conjuring up sweet, sweet memories!
100g packet
This product is no longer in stock
Warning : Last items in stock
Availability date :
Tasting notes
Almond, honey, hazelnut, pistachio
Behind the simplicity… Exceptional expertise
The process for making a high-quality Nougat is rather complex and notoriously difficult to master, even in the league of French confectionery, and only the pure talent and expertise of our pâtissiers allows them to succeed in this challenge.
Made with flower blossom honey and egg whites expertly whipped into snowy peaks, the resulting mixture is worked with the utmost care to amplify the aromas of the honey. After being heated to a high temperature, the sugar is then incorporated to stabilise the mixture. Then, almonds, pistachios and hazelnuts are added in. The mixture then is left to rest for as long as it needs to reach the ideal temperature. The Nougat is lastly cut up and carefully packaged.
Nougat: An elegant pleasure
Take your tastebuds back in time and rediscover and pure and simple pleasure with this sweet masterpiece! Soft and rich in almonds, pistachios and hazelnuts, Nougat is a delicate and elegant product which our pâtissiers pride themselves on having mastered, perpetuating this delicious French tradition!
Our serving tips
Nougat is a refined pleasure, perfect for sharing during special occasions with friends and family. Be sure of putting a smile on their face by gifting Nougat to your loved ones!
Our Maison recommends enjoying this sweet treat after breakfast or dinner, alongside a coffee, for example.
Sugar, ALMOND, honey 11.8%, water, glucose syrup, HAZELNUT, EGG white 5.4%, PISTACHIO, starch, wafer (potato starch, water, vegetable oil).
All our products are made in a bakery which uses wheat flour (gluten), milk (lactose), eggs, nuts (almond, hazelnut, pistachio, walnut), sesame, soya derivative, peanuts and ingredients which may contain traces of sulphites.
Nutritional values per 100g
Energy 1665 kj
Energy 397 kcal
Fats 16 g
> Of which saturates 2.4 g
Carbohydrates 56 g
> Of which sugars 50 g
Fibre 3 g
Protein 6.1 g
Salt 0 g
Store in a dry, cool place.
To make sure you experience the best flavours and textures our speciality has to offer, we recommend enjoying it within 90 days of shipment from our Atelier. So you can enjoy the indulgence at its finest.
They have already tasted this product
Patrick S. published the 10/05/2022 following an order made on 30/04/2022
Délicieux et moelleux à souhait mais il faut garder le sachet bien fermé car sinon il a tendance à sécher.
Marie J. published the 12/04/2022 following an order made on 01/04/2022
Bons
Laurence O. published the 10/04/2022 following an order made on 29/03/2022
Délicieux, du VRAI NOUGAT artisanal , je suis trop FAN de votre maison
Huguet N. published the 30/03/2022 following an order made on 18/03/2022
je ne l'ai pas encore gouté, j'attends Päques
Salvatore Z. published the 01/03/2022 following an order made on 15/02/2022
Parfaits