From ingredients to biscuits...

Our biscuitiers, our atelier & how we make our magic

It's from our Atelier in Colmar, nested in the Haut-Rhin region at the heart of Alsace, that our pâtissiers work daily to create our specialities: From Bredele to Macarons de Riquewihr® (or macaroons, as you may know them), not to forget gingerbreads and Kougelhopf, to name but a few! From the most traditional to the most modern creations, all our recipes are shaped around references to our beautiful region.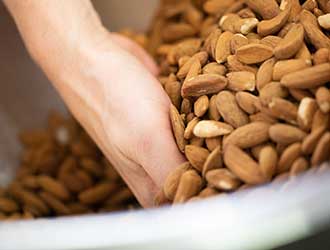 Ingredient selection
At the very beginning of our specialities: Ingredients selected for their origins, freshness and, of course, their quality.
A thorough, hand-selection progress that is subject to intransigent controls, so that we can guarantee you enjoy the same excellence, every time you enjoy one of our products…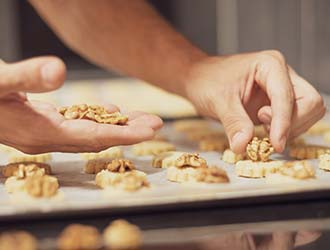 Mastering each step
From preparing the dough to baking our products, each step is a demonstration of our pâtissiers' unique savoir-faire and talent.
Placing a walnut atop of Soft Bredele, pairing together two macaron shells, decorating gingerbread… No step is rushed in our Atelier, and countless of these steps are carried out by hand.
The care we give to each detail is found throughout the process, right up to placing our products into their packets and making up our gift boxes and luxury tins: Our biscuits are carefully selected and placed into their packaging by hand. This way, you know that when you get one of our lovingly curated assortments, it will be delight for both your eyes and your tastebuds!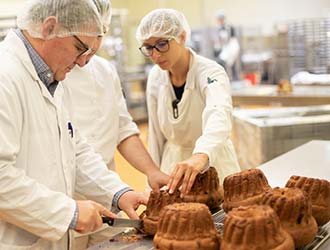 A new take on biscuiterie
We're working with a creative and innovative process through a bold way of looking at tradition, so that our biscuitier heritage continues to shine, and so that gourmands (foodies and lover of fine things) can experience our region's delicacies.
Thanks to our experience, and with the utmost respect for our roots and our craft, we work everyday to ensure that each of our recipes offers you an experience packed with unique flavours and which builds a truly singular taste identity: The taste of the Maison Alsacienne de Biscuiterie…