Traditional Kougelhopf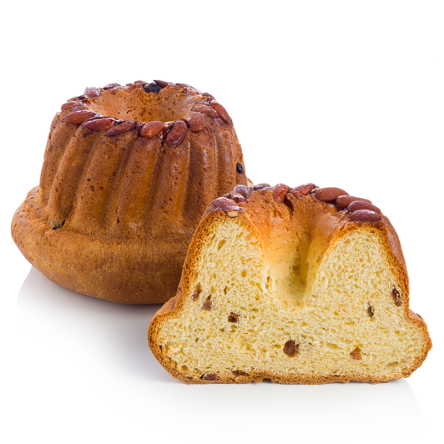 View larger
Send this product by e-mail

Remove from my favorites
Add to my favorites
Bring an icon of Alsace traditions to your table with our scrumptious Kougelhopf! Most Alsace locals share a great love for the authentic taste of this traditional brioche, which has become an emblem of our region.
Find out more

In order to make sure you're up-to-date, this product had to be frozen (-30°C) just after its production.
500g piece
Warning : Last items in stock
Availability date :
Tasting notes
Raisins, Rum, Almond, Butter
Alsace in a biscuit
Invite an icon of Alsace traditions to your table with our scrumptious Kougelhopf…
The Kougelhopf is THE must-try brioche in Alsace, and it occupies a place close to the hearts of all Alsace locals, although its reputation is known far beyond our borders. Its typical shape, with a high, grooved dome and hollow centre, is created by its traditional Soufflenheim terracotta mould. In this brioche, you'll discover decadent buttery flavours and rum-soaked raisins. Its crest is decorated by hand, using whole almonds.
The Kougelhopf by the Maison Alsacienne de Biscuiterie
What makes the Maison Alsacienne de Biscuiterie's Kougelhopf so popular?
A recipe that has been honed to perfection and used by our bakers and pâtissiers along with ingredients of undeniable quality! Our bakers begin by placing whole almonds individually in the base of the mould, forming a crown for the Kougelhopf once it's taken out of the mould.
Good and proper kneading techniques, resting time, slow rising, and lastly baking in an authentic mould made with Soufflenheim terracotta… A whole process goes into creating this sumptuously soft and light brioche.
A brioche to share
The ritual of Sunday brunch with friends and family is sacred here. Pair this delectable moment with a worthy sweet treat: Cut into generous slices, our Kougelhopf is perfect for sharing during wonderful times together, as part of the best way to start a day…
Much more than just a brioche, the Kougelhopf symbolises sharing, a love of life's pleasures and, most of all, the joy in spending time together.  
Our serving tips
The Kougelhopf is delicious enjoyed on its own, but you can also dust it with icing sugar or, for an even more decadent experience, slather a slice of it with your favourite preserve.
Why not try it toasted? A few minutes in the oven or toaster will add a delectable crunch to it…
To enjoy all the wonderful flavours our Kougelhopf has to offer, we recommend enjoying it within 10 days of its shipment from our Atelier. 
Flour (GLUTEN), MILK, butter (MILK), raisins 8.3%, EGG, sugar, rum, ALMOND, yeast, water, salt, wheat starch (GLUTEN), powdered MILK, wheat GLUTEN, wheat flour (GLUTEN), powdered whey (MILK).
All our products are made in a bakery which also works with wheat flour (gluten), milk (lactose), eggs, nuts (almond, hazelnut, pistachio, walnut), sesame, soya derivatives, peanuts and ingredients which may contain traces of sulphites.
Nutritional values per 100g
Energy 1569 kj
Energy 376 kcal
Fats 16 g
> Of which saturates 8.6 g
Carbohydrates 42 g
> Of which sugars 13 g
Fibre 17 g
Protein 7.8 g
Salt 0.8 g
Alcohol 0.9 g
Store in a cool, dry place.
To make sure you experience the best flavours and textures our speciality has to offer, we recommend enjoying it within 10 days of shipment from our Atelier. Trust us, you'll enjoy it even more!
In order to preserve all the wonderful flavours of our Kougelhopf, it has been frozen (cooled to core, immediately after production) using the appropriate techniques. Given this, we ask you not to refreeze this product.
You may also like...
The iconic Alsace brioche in a savoury interpretation: A soft brioche filled with smoked lardons and decorated with walnut kernels. A must-have for aperitifs and big events in A...

An incredibly indulgent brioche. Sprinkled with cinnamon sugar and generously filled with hazelnuts, walnuts, roasted almonds and raisins soaked in rum, this is a decadent expre...

Bredele "Discovery" assortment

All the exquisite taste of our Maison, presented in a beautiful luxury tin. Soft biscuits, butter biscuits and gingerbreads… The perfect selection for discovering and savouring ...