After Dinner Assortment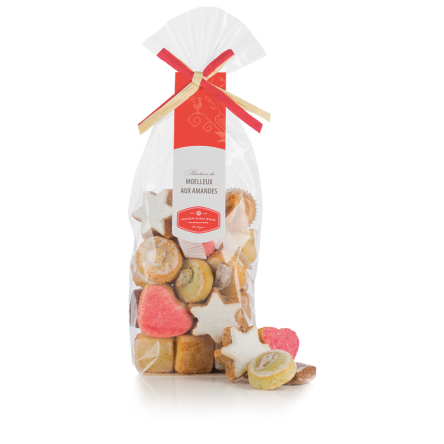 View larger
Send this product by e-mail

Remove from my favorites
Add to my favorites
All our almond moelleux biscuit creations. Original creations from our Maison, these meltingly soft Bredele come with fruity flavours, floral notes and even nutty tones. An assortment to be gifted and shared…
285 g packet
Shipped within 24h!
Warning : Last items in stock
Availability date :
This assortment contains
In this assortment, you'll discover all our Maison's soft Bredele*:
Cinnamon star
Rose Délice
Honey baton
Almond Délice
Hazelnut Délice
Walnut Délice
Pistachio Délice
Mocha Liabsti
Lemon Liabsti
Orange Liabsti
Damson Plum Truffle
Praline-coated Truffle
Brünsli
Raspberry & hazelnut snowflake
Almond, at the heart of our creations
With this assortment, we've brought together all our Maison's soft Bredele delicacies: original creations inspired by our regions biscuiterie tradition. Our pâtissiers make these biscuits with almonds: It's this rich almond paste that gives them their soft texture that divinely melts in the mouth.
An incredible diversity of biscuits
Shaped like perfect little hearts or stars, as bite-sized favourites, the Liabsti, and our sweet pleasures, the Siess g'nuss, or even in the form of small, colourful truffles. These biscuits are daintily iced, occasionally decorated with a pistachio, almond or walnut, which is always added by hand with the utmost care. A true indulgence for the eyes !
After taking in their beauty with your eyes, you'll delight in their authentic flavours. Our creations are made with fruit preserves, citrus zest, floral essential oils, premium-quality cocoa powder, all kinds of nuts, to name but a few examples... Ingredients that create delicious biscuits.
An insight into our expertise
This stunning assortment is the product of our savoir-faire, that is, our expertise: It starts with the creation of original recipes and an exacting ingredient selection process, researching flavours and seeking out balanced aromas, making the delicacy before finishing with a careful, delicate baking process… And not even the slightest detail is left to chance.
These biscuits embody everything that we want to share with you: High-quality, delicious and original products, born from our vision of traditional Alsace biscuiterie traditions, respecting our cherished heritage.
Our serving tips
Whether you're saving it for a coffee break or dessert, this assortment creates a moment of delicious bliss when served alongside a hot drink. Give your guests a choice of indulgence…
*Depending on seasons and what our pâtissiers have created at the time of packaging, the content of this packet may vary. This list is updated as regularly as possible but remains non-exhaustive. Get in touch if you have any questions!
ALMOND 30.3%, sugar, ALMOND paste 12.3% (sugar, ALMOND 32.3%, invert sugar syrup, glucose syrup), apricot topping (glucose-fructose syrup, sugar, apricot puree 4%) , invert sugar, EGG, HAZELNUTS, raspberry jam (sugar, raspberry 45%, glucose syrup, gelling agent: E440I), candied orange and lemon peel (orange peel 0.5%, glucose syrup, sugar, peel lemon 0.2%), plum jam (sugar, plums 35%, gelling agent: E440I), plum jam (sugar, plums 35%, gelling agent: E440I 2.5%), NUTS, HAZELNUT praline (HAZELNUT 50%, sugar, emulsifier : E322 (SOYA)), dark chocolate (cocoa: 58% min.) (cocoa, sugar, cocoa butter, emulsifier: E322 (SOYA), vanilla), starch, grapes, PISTACHIO, honey, water, pure cocoa paste , lemon juice, PISTACHIO paste (pistachio 48.4%, sugar, flavoring, coloring: E141 - E161b), coffee paste (coffee, sugar, HAZELNUT oil, HAZELNUT, natural coffee flavoring), cinnamon, crispy praline (sugar , biscuit (flour (GLUTEN), sugar, butter (MILK), sunflower oil, MILK sugar, MILK proteins, skimmed MILK powder, salt, malt extract (GLUTEN), raising agent: E500ii), chocolate MILK (sugar, whole MILK powder, cocoa butter, cocoa mass, anhydrous milk fat (MILK), natural vanilla flavor), vegetable fat (sunflower), emulsifier: SOYA lecithin, stabilizer: sorbitol, flavor, cinnamon , raspberry-mirabelle-quetsche brandy, essential oil: lemon, coloring ingredient: safflower extract - concentrated acerola juice - concentrated beet juice - lemon juice, raspberry concentrate (raspberry puree, apple fibers, aroma natural raspberry, radish and carrot concentrates), antioxidant: rosemary extract, natural rose flavor, coffee, cocoa butter, orange essential oil, coloring: carmine - paprika extract - lutein, thickener: gum arabic.
All our products are made in a bakery using wheat flour (GLUTEN), MILK (lactose), EGGS, nuts (ALMOND, HAZELNUT, PISTACHIO, walnut), sesame, soya derivatives, peanuts and ingredients which may contain traces of sulphites.
Nutritional values per 100g
Energy 1836 kj
Energy 439 kcal
Fats 23 g
> Of which saturates 5 g
Carbohydrates 47 g
> Of which sugars 43 g
Fibre 4.6 g
Protein 8.8 g
Salt 0.05 g
Alcohol 0.0 g
Store in a cool, dry place.
To make sure you experience the best flavours and textures our speciality has to offer, we recommend enjoying it within 90 days of shipment from our Atelier.. Trust us, you'll enjoy it even more!
You may also like...
After Dinner Assortment - Deluxe tin

All of our almond moelleux biscuits presented in a luxury gift tin. Original creations from our Maison, these meltingly soft Bredele come with fruity flavours, floral notes and ...

In this selection, you'll discover your favourite soft biscuits: Lemon Liabsti, Pistachio Siess g'nuss and Rose Délice, there's a lot of softness waiting to be savoured… 220 g ...

All the exquisite taste of our Maison, presented in a beautiful luxury tin. Soft biscuits, butter biscuits and gingerbreads… The perfect selection for discovering and savouring ...