The best of soft Bredele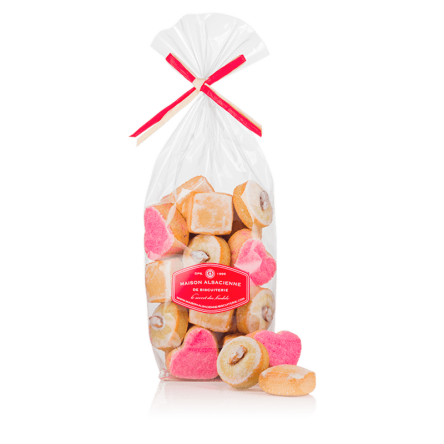 View larger
Send this product by e-mail

Remove from my favorites
Add to my favorites
In this selection, you'll discover your favourite soft biscuits: Lemon Liabsti, Pistachio Siess g'nuss and Rose Délice, there's a lot of softness waiting to be savoured…
220 g packet
Warning : Last items in stock
Availability date :
This selection contains
3 soft Bredele:
Lemon Liabsti
Pistachio Siess g'nuss
Rose Délice
At the origin of the best
We've brought together 3 of our specialities that have been crowned your favourites. Combining tradition and creativity, these best-sellers represent our Maison at its finest. At the root of their popularity? A smooth, almond-rich paste!
The secret to their success
Each of these creations expresses our biscuiterie expertise.
In the famous Rose Délice, the subtle hint of rose essential oil added by our pâtissiers makes this a stunning creations, in which the freshness of the floral tones and the sweetness of the almond come together in perfect harmony.
As for the Pistachio Siess g'nuss, it's a veritable "doux plaisir" [sweet pleasure], into which our team has incorporated a natural pistachio paste to give it an authentic taste. It's perfected with a sweet icing, and a whole pistachio adds the finishing touch of an exquisite initial crunch.
Last but certainly not least, the Lemon Liabsti is your "favourite", with candied citrus fruit and lemon essential oil, and is also decorated with a delicious icing.
Gift nothing but the best…
Want to gift the best of what our Maison has to offer? Or perhaps you just can't decide which speciality to choose from our range of soft Bredele? Well then, our Best of Soft Bredele is the choice for you. You can't go wrong with this selection of sumptuously soft delicacies…
ALMOND, sugar, apricot topping (glucose syrup - fructose, sugar, apricot purée 4%). EGG, inverted sugar syrup, water, candied lemon peel (lemon 51.5%, glucose syrup), candied orange peel (fruit 52.9%: clementines, oranges), PISTACHIO paste (PISTACHIO 48.4% sugar, flavouring, colouring: E141 - lutein) , lemon juice, cornflour, lemon essential oil, natural rose flavouring, antioxidant: rosemary extract, colouring: E160c - E161b - E120.
All our products are made in a bakery which also works with wheat flour (gluten), milk (lactose), eggs, nuts (almond, hazelnut, pistachio, walnut), sesame, soya derivatives, peanuts and ingredients which may contain traces of sulphites.
Nutritional values per 100g
Energy 1819 kj
Energy 435 kcal
Fats 23 g
> Of which saturates 5 g
Carbohydrates 46 g
> Of which sugars 42 g
Fibre 5 g
Protein 8.8 g
Salt 0.05 g
Store in a cool, dry place.
To make sure you experience the best flavours and textures our speciality has to offer, we recommend enjoying it within 90 days of shipment from our Atelier.. Trust us, you'll enjoy it even more!
They have already tasted this product
Nathalie D. published the 06/09/2022 following an order made on 27/08/2022
Jamais déçue, le format est idéal pour garnir la chambre de mes invités
Cristina A. published the 31/08/2022 following an order made on 21/08/2022
Delicieuses
Florence S. published the 30/08/2022 following an order made on 19/08/2022
Toujours excellent
Nathalie D. published the 24/08/2022 following an order made on 13/08/2022
Délicieux, il faut se retenir pour faire durer le plaisir.
Carole B. published the 16/08/2022 following an order made on 05/08/2022
Absolument exquis, très savoureux, un vrai bonheur à savourer!!!
You may also like...
All our almond moelleux biscuit creations. Original creations from our Maison, these meltingly soft Bredele come with fruity flavours, floral notes and even nutty tones. An asso...

A selection to welcome in cosy, autumnal vibes! 3 soft biscuits made with almonds, hazelnuts and walnuts, inviting you to step into the cosy season in style and embrace decadent...

The Best of All-Butter Bredele

Marbré Damier, Linzer and Spritz: Three fine all-butter biscuits with the perfect crunch! Hailing from our Alsace biscuiterie traditions, these authentic butter biscuits that ou...