Colmar welcomes the arrival of Springtime in its own, special way: Full of cheer and community. Bursting with colour and music, the 10thth edition of "Colmar celebrating Springtime" will be held from Friday 8 April to Sunday 1stst May. Come and enjoy the first rays of sunshine in the enchanting setting of Colmar's old town!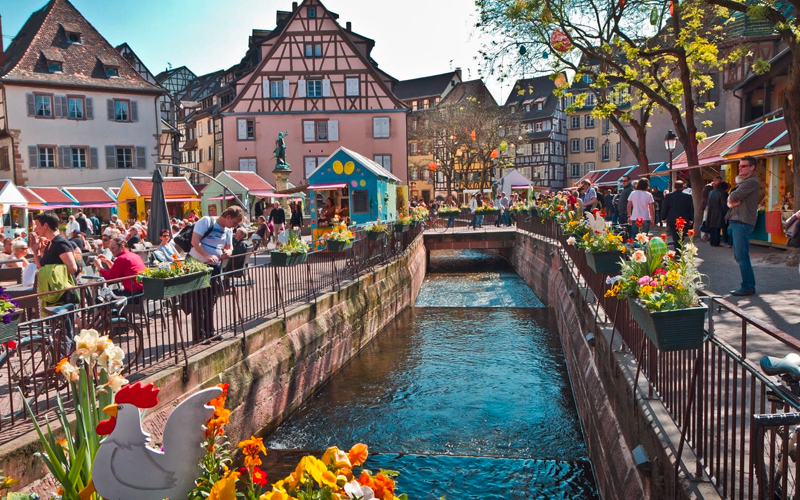 Land of celebrations and traditions
While Alsace is mostly known for its Christmas traditions over the month of December, with its traditional Christmas markets, there are other, non-secular celebrations and events in its cultural calendar which are equally celebrated: Springtime and Easter celebrations.
Colmar Springtime and Easter Market
For three weeks, Colmar locals come together to mark the arrival of the warmer season, whilst also celebrating Easter and decorating their town. Colmar is transformed into a living theatre for Easter celebrations, where the "Osterhase", or Easter bunnies as you may know them, have made their home in flowered displays, along with the hens and chicks appearing on the banks of the River Lauch, another affluent of the River Ill - and the budding foliage of trees are decorated with eggs in bright and joyful colours.
Although it may be smaller than the Christmas Market, the Colmar Easter and Springtime Market isn't any less of a wonderful event that deserves a trip whether you're having some solo you-time, enjoying a romantic day out for two, or in seek of a family adventure.
Springtime strolls in search of authenticity…
As winter gives way to springtime, the chalets of the Christmas Market are replaced by small huts, adorned with Easter and Springtime decorations. Set up right in the city centre, two markets are held for these celebrations, one in the Place des Dominicains and the other in the Place de l'Ancienne Douane. Real gems in the history of this town, these two places with their pop-up stalls offer a unique setting for a shopping spree, where you're sure to pick up some unexpected but incredible finds.
Selected for their "artisan sincerity", the finest craftsmen and craftswomen from around the region showcase and sell their wonderful and beautiful creations, full of ingenuity and inventions.
Come and find us there…
A major figure on the Alsace biscuit scene since 1996, our Maison will be there, ready to delight your senses: Place des Dominicains Friday 8 April to Sunday 1stst May – Every day from 10:00 to 19:00.
This is the perfect chance for us to introduce you to our Easter specialities, such as: our Lamala (Easter lamb), our chocolate figures, our praline eggs, our Easter butter biscuits, our cocoa biscuits, and our gingerbread Easter eggs. We can't forget our unmissable classics, including our butter biscuits, almond soft biscuits, traditional gingerbreads and macaroons, all baked fresh on-site…
---
More information on the Colmar Easter and Springtime Market: https://printemps-colmar.com/fr/