Spritz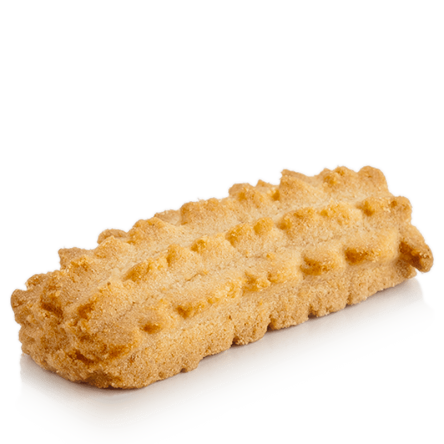 View larger
Send this product by e-mail

Remove from my favorites
Add to my favorites
A great classic well known by Bredele-lovers! This crisp, all-butter biscuit, with almond and vanilla notes, gets its grooved baton shape to the piping bag technique used to craft it…
210g packet
Warning : Last items in stock
Availability date :
Tasting notes
Almond, vanilla, butter
Pronounced "Chpritsss" - if you want to show off!
The Spritz (pronounced "Chpritsss") is definitely one of the best-known and best-loved Bredele amongst our biscuiterie traditions. It's one of the Christmas biscuits that we make using a piping bag: Its name, "Spritzbredele" literally means "piped biscuit"!
Traditionally gifted during the Advent period, we make them all year-round, so that you can enjoy their sumptuous taste whenever it takes your fancy…
A crispy butter biscuit
Our Maison has added its own little touch on this traditional recipe, adding a not-so-secret ingredient into the mix: Almonds. Once piped, they're then baked on a baking sheet, until they achieve their splendid golden colour and their signature crisp exterior.
A sweet flavour…
Although simple in appearance, the Spritz reveals the wonderful flavours of its ingredients as soon as you bite into it: The gorgeous, buttery tones, the subtler notes of the almond combined with the sweetness of the natural vanilla extract flavouring the biscuit…
Our serving tips
Trust us, and try dunking your Spritz into a homemade hot chocolate (with cream and sprinkled with cinnamon for an added touch of indulgence).
Flour (GLUTEN), butter (MILK) 22.9%, ALMOND 15.3%, sugar, starch,EGG, dextrose, glucose syrup, vanilla extract 1%, antioxidant: rosemary extract.
All our products are made in a bakery which uses wheat flour (gluten), milk (lactose), eggs, nuts (almond, hazelnut, pistachio, walnut), sesame, soya derivative, peanuts and ingredients which may contain traces of sulphites.
Nutritional values per 100g
Energy 2001 kj
Energy 479 kcal
Fats 28 g
> Of which saturates 14 g
Carbohydrates 48 g
> Of which sugars 18 g
Fibre 2.7 g
Protein 7.5 g
Salt 0.0 g
Store in a cool, dry place.
To make sure you experience the best flavours and textures our speciality has to offer, we recommend enjoying it within 90 days of shipment from our Atelier. So you can enjoy the indulgence at its finest.
They have already tasted this product
Carole B. published the 16/08/2022 following an order made on 05/08/2022
Absolument exquis ! Un vrai bonheur à savourer !!
Daniel P. published the 19/07/2022 following an order made on 02/07/2022
excellent
Akila M. published the 06/05/2022 following an order made on 27/04/2022
Trop bon
Karin G. published the 21/04/2022 following an order made on 06/04/2022
Mon biscuit préféré !!!!!
Sandrine C. published the 19/04/2022 following an order made on 01/04/2022
Incontournable lui aussi. Un classique dont on ne se lasse pas
You may also like...
We've put together all our all-butter Bredele creations in this assortment. Crispy and full of wonderful, buttery flavours, flavoured with spices, filled with nuts or fruit, the...

This bredele is a crisp, all-butter biscuit with sweet vanilla and intense cocoa tones coming together in their own, sensory game of chequers. A delicious festive biscuit that w...

The Best of All-Butter Bredele

Marbré Damier, Linzer and Spritz: Three fine all-butter biscuits with the perfect crunch! Hailing from our Alsace biscuiterie traditions, these authentic butter biscuits that ou...