No Sugars Added Butter Biscuit Assortment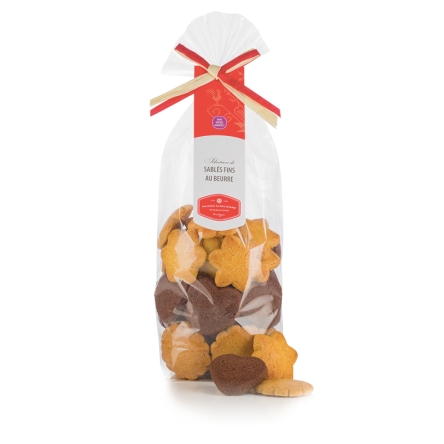 View larger
Send this product by e-mail

Remove from my favorites
Add to my favorites
A satisfyingly crisp exterior, wonderful buttery flavours, the subtle hint of lemon essential oil, sublimely sweet vanilla notes, warming spices… This Bredele has it all. Our all-butter Bredele with no added sugars have everything needed to delight sweet-toothed individuals!
165 g packet
Warning : Last items in stock
Availability date :
This assortment contains
All our no-added-sugars bredele:
No-added-sugars Milan Butter Biscuit
No-added-sugars Spiced Butter Biscuit
No-added-sugars Cocoa Butter Biscuit
Our no-added-sugars biscuits
We've put together three all-butter Bredele for this assortment:
Milan Butter Biscuit: This crunchy all-butter biscuit is made with seeds from Madagascan vanilla pods, and flavoured with lemon essential oil. Once you take a bite, it reveals gloriously smooth flavours…
The Spiced Butter Biscuit is a dreamily light, all-butter Bredele with no shortage of finesse. It's flavoured with lemon essential oil and enhanced with a beautifully balanced spice blend created especially for this delicacy.
The Cocoa Butter Biscuit brings together the delicious flavours of butter and the comforting flavours of chocolate in a biscuit that simply melts in the mouth…
All the authentic taste, just a little less sugar!
With these no-added-sugars creations, our Maison has made sure you don't need to compromise with our butter biscuits: Fresh butter, eggs, flour, cocoa, lemon essential oil and even spices… In these Bredele, you'll find all the typical ingredients used in the art of biscuiterie. Sugar is the only thing missing from the list of ingredients!
How and why?
To make sure each creation, each step, and each dosage is nothing short of perfect, each process bears its own importance. Most importantly, each ingredient plays a significant role: Bite into one and marvel at the decadent biscuit alchemy that makes them melt in the mouth! Our expertise enables us to create butter biscuit recipes without one ingredient that you'd think is most essential: Sugar. To do this, we replace it with a natural, plant-based substitute. Our Maison has thought of all lovers of the finer things…
Our serving tips
Created especially for those with a sweet tooth but who also want to watch their sugar intake, that's not to stop this assortment of butter biscuits delighting everyone's tastebuds! Pair them with an Earl Grey tea to create a delicious moment in your day…
Flour (GLUTEN), butter (MILK), sweetener: maltitol, EGG, cocoa, salt, cinnamon, spices, essential oil: lemon, antioxidant: rosemary extract, vanilla seeds, powdered vanilla. *contains natural sugars. Excessive consumption may have a laxative effect.
All our products are made in a bakery which uses wheat flour (gluten), milk (lactose), eggs, nuts (almond, hazelnut, pistachio, walnut), sesame, soya derivative, peanuts and ingredients which may contain traces of sulphites.
Nutritional values per 100g
Energy 1813 kj
Energy 436 kcal
Fats 28 g
> Of which saturates 18 g
Carbohydrates 45 g
> Of which sugars 1 g
> Of which polyols 16 g
Fibre 1.7 g
Protein 6.5 g
Salt 0.25 g
Store in a cool, dry place.
To make sure you experience the best flavours and textures our speciality has to offer, we recommend enjoying it within 90 days of shipment from our Atelier. So you can enjoy the indulgence at its finest.