The Best of All-Butter Bredele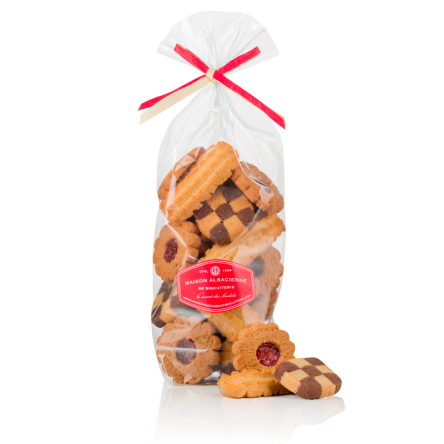 View larger
Send this product by e-mail

Remove from my favorites
Add to my favorites
Marbré Damier, Linzer and Spritz: Three fine all-butter biscuits with the perfect crunch! Hailing from our Alsace biscuiterie traditions, these authentic butter biscuits that our pâtissiers have perfected have played a key role in forging the renown of our Maison…
230 g packet
Warning : Last items in stock
Availability date :
This selection contains
This selection features 3 of our all-butter Bredele:
Marbré Damier
Spritz
Linzer
Emblems of our biscuiterie traditions
Bredele are renowned and loved for their multiple shapes and flavours. Out of all our all-butter Bredele, our Maison has curated this assortment with three of its most sumptuous creations. These specialities represent the crème de la crème of our biscuiterie traditions, and are our most-loved delicacies amongst fans of crisp biscuits with lashings of buttery flavours…
Savour the best…
Picking this selection means you just know you're in for a moment of delicious bliss. Three specialities which, each in their own way, contribute to the renown of our Maison. Let your desire to indulge guide you…
Attracted by the two-tone chequerboard of our Marbré butter biscuit, as you bite into this biscuit you'll be swept up in a delectable wave of vanilla and chocolate flavours. We're sure that your heart will be won over by the one made with raspberry preserve in our Linzer: A delicious butter biscuit with hazelnut and cinnamon flavours. Then, perhaps we've kept the best for last, as you discover our signature cinnamon baton, the unmissable Spritz.
Our serving tips
Settle down into a comfortable chair, close your eyes, and revel in the best of our all-butter Bredele…
Flour (GLUTEN), butter (MILK), sugar, EGG, ALMOND, raspberry preserve (sugar, raspberry 45%, glucose syrup), starch, HAZELNUT, cocoa, dextrose, glucose syrup, vanilla extract, cinnamon, salt, antioxidant: rosemary extract.
All our products are made in a bakery which uses wheat flour (gluten), milk (lactose), eggs, nuts (almond, hazelnut, pistachio, walnut), sesame, soya derivative, peanuts and ingredients which may contain traces of sulphites.
Nutritional values per 100g
Energy 1943 kj
Energy 465 kcal
Fats 26 g
> Of which saturates 14 g
Carbohydrates 50 g
> Of which sugars 22 g
Fibre 2.3 g
Protein 6.6 g
Salt 0.08 g
Store in a cool, dry place.
To make sure you experience the best flavours and textures our speciality has to offer, we recommend enjoying it within 90 days of shipment from our Atelier. So you can enjoy the indulgence at its finest.
You may also like...
In this selection, you'll discover your favourite soft biscuits: Lemon Liabsti, Pistachio Siess g'nuss and Rose Délice, there's a lot of softness waiting to be savoured… 220 g ...

We've put together all our all-butter Bredele creations in this assortment. Crispy and full of wonderful, buttery flavours, flavoured with spices, filled with nuts or fruit, the...

Tea Time Assortment - Deluxe tin

Discover all our all-butter Bredele creations in this beautiful luxury tin. With a satisfyingly crisp exterior and plenty of buttery goodness, flavoured with spices, filled with...