Traditional Langhopf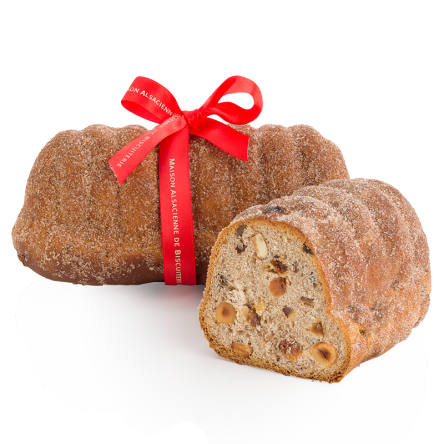 View larger
Send this product by e-mail

Remove from my favorites
Add to my favorites
An incredibly indulgent brioche. Sprinkled with cinnamon sugar and generously filled with hazelnuts, walnuts, roasted almonds and raisins soaked in rum, this is a decadent expression of our region's generosity!
Find out more

In order to make sure you're up-to-date, this product had to be frozen (-30°C) just after its production.
280g piece
Warning : Last items in stock
Availability date : 2018-12-13
Tasting notes
Butter, walnuts, almonds, raisins soaked in rum, spices
A Langhopf is a Langhopf!
It has a typically, oh-so Alsace name and its grooves and colour may well have you thinking of a long Kougelhopf. Indeed, the Langhopf does have a few similarities with the Kougelhopf: It's made with a risen dough created lovingly by our pâtissiers, then left for a good while to rest and rise. The Langhopf is also baked in a traditional terracotta mould which is made in Soufflenheim, an Alsace town renowned for its traditional pottery. This biscuit stands in a league of its own, and foodies don't struggle to list the reasons why they love it!
A simply delicious brioche
The traditional Langhopf is a wondrously soft brioche, decadently filled with hazelnuts, roasted almonds, walnuts and raisins soaked in rum. Once taken out of the oven and removed from its mould, our pâtissiers coat the Langhopf with a thin layer of butter, then roll it in cinnamon sugar. Infinitely indulgent…
An authentic speciality
What's the story behind the Langhopf? Joining our many living traditions less than 30 years ago, this brioche has remained a well-kept secret ever since. That said, it enjoys a certain reputation with refined connoisseurs…
A creation that our Maison takes great joy in presenting to you with a special, limited edition for this festive period.
Our serving tips
The Langhopf is sure to be the star of your festive brunches and catch-ups over coffee. Cut into generous slices and shared with friends and family… Savour this delicacy with your favour hot drink for a moment of pure bliss!
To appreciate every layer of our brioche's texture and flavours, we advise enjoying it within 8 days of its shipment from our Atelier.
Wheat flour (GLUTEN), butter (MILK), sugar, MILK, raisins 7%), EGGS, ALMOND (3.4%), HAZELNUT(3.4%), WALNUT (3.4%), rum, yeast, powdered MILK, wheat starch (GLUTEN), wheat GLUTEN, whey (MILK), salt, cinnamon (0.6%).
All our products are made in a bakery which also works with wheat flour (gluten), milk (lactose), eggs, nuts (almond, hazelnut, pistachio, walnut), sesame, soya derivatives, peanuts and ingredients which may contain traces of sulphites.
Nutritional values per 100g
Energy 1672 kj
Energy 401 kcal
Fats 18 g
> Of which saturates 7.8 g
Carbohydrates 43 g
> Of which sugars 17 g
Fibre 15 g
Protein 7.5 g
Salt 0.67 g
Alcohol 0.8 g
Store in a cool, dry place.
To make sure you experience the best flavours and textures our speciality has to offer, we recommend enjoying it within 8 days of shipment from our Atelier. Trust us, you'll enjoy it even more !.
In order to preserve all the wonderful flavours of our Langhopf, it has been frozen (cooled to core, immediately after production) using the appropriate techniques. Given this, we ask you not to refreeze this product.
They have already tasted this product
Gisèle F. published the 22/11/2022 following an order made on 04/11/2022
Bon mais un peu sec... date de consommation un peu courte une fois qu on l a reçu...
Chantal E. published the 17/11/2022 following an order made on 01/11/2022
DLC 4 jours après réception du colis
Eve P. published the 08/11/2022 following an order made on 25/10/2022
TBons
Christian E. published the 02/11/2022 following an order made on 21/10/2022
Parfait mais sucre extérieur superflu
Jasmine G. published the 01/11/2022 following an order made on 22/10/2022
Elle situation que pour le précédent.
You may also like...
Bring an icon of Alsace traditions to your table with our scrumptious Kougelhopf! Most Alsace locals share a great love for the authentic taste of this traditional brioche, whic...

Made using a pure cocoa paste and generous lashings of dried fruit before being perfectly crowned with royal icing, the Squirrel Baton is a resolutely indulgent soft Bredele! 1...