Amanda Gingerli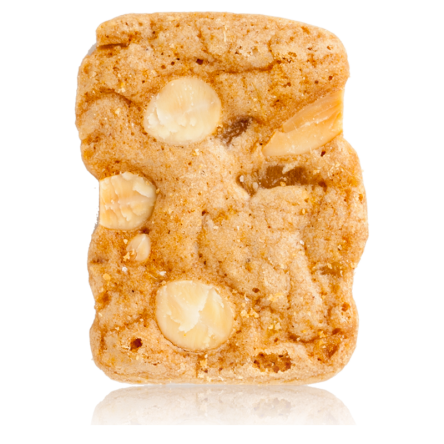 View larger
Send this product by e-mail

Remove from my favorites
Add to my favorites
Composed of flaked almonds, brown cane sugar and just a pinch of ginger, this all-butter Bredele - lightweight and crisp - offering a satisfying "crunch" like no other!
210g packet
Warning : Last items in stock
Availability date :
Tasting notes
Almond, Sweet ginger, Butter, Cinnamon, Clove, Lemon
A unique snap and a rustic look
There are two main reasons why you won't forget the blissful experience of enjoying the Amanda Gingerli: Its unique snap and its rustic look!
Calling all fans of authentic taste experiences: Prepare to indulge! Once you've tried the Amanda Gingerli, you'll never forget its exquisite decadence: Fine and light, boasting lashings of flaked almonds, a good dose of brown cane sugar and a little pinch of candied ginger. Once you've taken a bite, this biscuit will reveal the delicious contrast between the sweet almond and the bold ginger.
The Gingerli: An exclusive recipe
The Amanda Gingerli holds a very special place amongst the many specialities created by our Maison. This creation boasts intense flavours and incredibly rich tones, all resulting from a recipe exclusively used by our Maison.
Our serving tips
The Amanda Gingerli is the perfect biscuit for moments of delicious bliss this summer: fine, light and crisp. It will go down wonderfully alongside a cup of Earl Grey or Darjeeling tea. It's also perfect alongside an iced tea!
Flour (GLUTEN), sugar, butter (MILK), almond (NUTS), candied ginger 13% (ginger 55%, sugar), spices, baking powder: sodium hydrogen carbonate, ginger 0.1%, ginger liqueur, lime.
All our products are made in a bakery which uses wheat flour (gluten), milk (lactose), eggs, nuts (almond, hazelnut, pistachio, walnut), sesame, soya derivative, peanuts and ingredients which may contain traces of sulphites.
Nutritional values per 100g
Energy 1788 kj
Energy 427 kcal
Fats 19 g
> Of which saturates 8.6 g
Carbohydrates 56 g
> Of which sugars 32 g
Fibre 2.6 g
Protein 6.6 g
Salt 0 g
Store in a dry, cool place.
To make sure you experience the best flavours and textures our speciality has to offer, we recommend enjoying it within 90 days of shipment from our Atelier. So you can enjoy the indulgence at its finest.
They have already tasted this product
Véronique D. published the 23/07/2022 following an order made on 13/07/2022
Très bon, petit goût de gingembre, croquant !
Gerard R. published the 16/12/2021 following an order made on 27/11/2021
très bon rapport qualité prix
Marie-Martine H. published the 14/12/2021 following an order made on 26/11/2021
Léger et fins !
Iréna S. published the 07/09/2021 following an order made on 27/08/2021
Très bien, conforme à mes attentes, je recommande !
Christiane V. published the 01/09/2021 following an order made on 20/08/2021
Parfait pour accompagner le café.