Stork eggs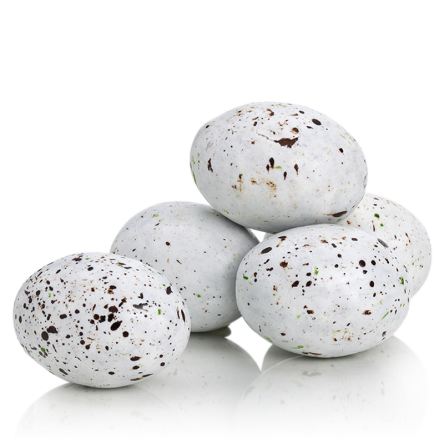 View larger
Send this product by e-mail

Remove from my favorites
Add to my favorites
Little eggs made with premium quality chocolate, for the perfect moment of indulgence. Underneath a delicate sugar shell, this enchanting Alsace speciality hides a delicious, creamy praline...
125 g packet
Warning : Last items in stock
Availability date :
Tasting notes
Cocoa, hazelnut, milk chocolate
Eggs, but the Alsace way!
The white, mottled shell of our eggs gives you a clue as to their origins: They're a nod to stork eggs - a majestic bird commonly found in Alsace. A symbol of our wonderful heritage, some Alsace locals will tell you that it's a good luck charm!
There's no excuse needed to enjoy this bliss!
As you bite into this little egg, you'll be met by the fine sugar layer, with its satisfying crack. The shell then gives way to the hazelnut praline, which melts irresistibly on the tongue: slightly sweet and well-balanced, the wonderful flavour of the hazelnut comes into its own. These exquisite praline eggs are so sumptuously indulgent, that you'll find it challenging to only try one…
A treasure well-mastered
There's a good reason why these eggs are so well-loved, and that's because they're the result of a perfectly mastered art. Their shells are created through delicate sugar syrup work, a process mastered by our chocolatiers to create this delicate layer with a wondrously smooth and glossy fish. They then move onto preparing the praline chocolate, using cocoa butter and high-quality roasted hazelnuts, guaranteeing a profound and rich flavour.
Our serving tips
Our chocolate delicacies are particularly indulgent when paired with an Oolong tea: Its light, fresh notes match pleasantly with the intense and full-bodied flavour of the praline.
Sugar, praline 14% (HAZELNUT, sugar), powdered whole MILK, cocoa solids, cocoa butter, concentrated butter (MILK), glazing agents (acacia gum, Carnauba wax, beeswax, shellac), glucose syrup, emulsifier: SOYA lecithin, flavourings, starch. Colourings: E100, E141, E150c.
All our products are made in a bakery which also works with wheat flour (gluten), milk (lactose), eggs, nuts (almond, hazelnut, pistachio, walnut), sesame, soya derivatives, peanuts and ingredients which may contain traces of sulphites.
Nutritional values per 100g
Energy 2160 kj
Energy 517 kcal
Fats 27 g
> Of which saturates 14 g
Carbohydrates 62 g
> Of which sugars 60 g
Protein 5.1 g
Salt 0.11 g
Alcohol 0 g
Store in a cool, dry place.
To make sure you experience the best flavours and textures our speciality has to offer, we recommend enjoying it within 90 days of shipment from our Atelier.. Trust us, you'll enjoy it even more!
You may also like...
Mini Kougelhopfs with praline centres

Our iconic Alsace biscuit… in sugar-coated pralines! You'll simply love contrasting textures, between the crunch of the sugar coating and the melting praline chocolate centre w...

The Bredele start of Christmas parties. A soft, star-shaped biscuit decorated with royal icing. Our Cinnamon Star is made by our pâtissiers with almonds, hazelnuts, honey, and i...